Water care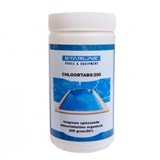 Everything for clean and safe bathing!
You can only enjoy if you are sure that your water is okay. With these products, we help you to achieve this.
Good bathing water is very important.
Start with measuring. To measure is to know!!
After measuring are you aware of the condition of the water. Start on upgrading of the pH value as the bath to the desired temperature. This is followed by the add chlorine disinfectant (usually chlorine), only 12 hours after the pH value work. Always follow the instructions on the package or the included user manual!
Shopping cart
No items in shopping cart.