UV lamps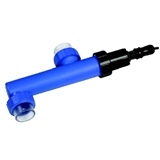 A UV lamp helps to reduce the chlorine consumption strongly!
The UV light kills the bacteria, this eliminates the need to add you but little chlorine.
The solution for those who want to (nearly) chlorine-free swimming or bathing.
Do you have questions about the use of UV, please let us know.
Shopping cart
No items in shopping cart.