Control units / boxes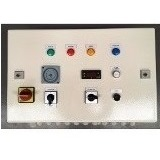 Aquademi builds his own control engineering, tailored for use on board yachts and professional installations.
As a result, we know what diverse requirements there are like no other.
Our PLC controlled cabinets can be custom made, for available space, tensions and specifications.
The programs for the PLC, we also take care, tailored to your wishes, and also at a later stage to adapt to the situation or changed requirements.
PLC Direct logic

PLC for various controllers. Supply voltage 230V-20 NPN-PNP inputs 12/24 VDC - 16 relay outputs 6-24V DC/6-230V AC, max. 2A per port.

€ 569,00

Expansion card inputs

Expansion card inputs PLC. Expansion card for PLC with 10 x 12-24VDC inputs.

€ 129,00

Expansion card outputs

Expansion card outputs PLC. Expansion card for PLC with 8 relay outputs (max. 1A).

€ 149,00

PT 100 temperature sensor

Temperature sensor for PLC. Cable length 3 m, 3-wire version. Sensor length 30 mm, diameter 6 mm sensor.

€ 44,00

Water sensor IFM KQ6001 24V DC

Capacitive water sensor. Liquid detection without contact with the medium. Works on all non metals. 10 to 30V DC 100mA max.

€ 180,00
Shopping cart
No items in shopping cart.