Sauna accessories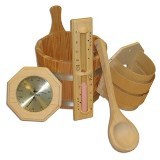 Carefully selected sauna accessories.
Quality at an affordable price.
Are you looking for something special, please let us know.
Sauna bucket copper (set)

Sauna bucket and spoon in copper with wooden handle. Also suitable for the professional user. Beautiful sauna set for aufguss sessions. Performed in quality copper.

€ 72,95

Hourglass 15 minutes.

Solid and luxury hourglass. Indispensable in every sauna gang. Luxury hourglass in various colors available.

€ 15,95

Head or footrest wood

Solid head or footrest. Bonded with heat-resistant glue. Dim. : 390x360x110mm.To use as a foot, back, and head restraints. Manufacture from unvarnished and sturdy glued wood.

€ 29,95
Shopping cart
No items in shopping cart.